Internet resources IPv6
Securebit AG is a member of RIPE NCC (Réseaux IP Européens Network Coordination Centre). RIPE NCC is responsible for the allocation and assignment of Autonomous System Numbers (ASN) and IP addresses in Europe. As LIR (Local Internet Registry), we offer them at attractive conditions.
Location
Europe
Germany
Europe
Liechtenstein
Holy See (Vatican City State)

We are the only provider to offer our customers the possibility to choose the geolocation of the superordinate subnet.
This makes sense, because there are providers and databases which obtain the location from the databases of the RIR (Regional Internet Registry) instead of reading the location data from the Whois.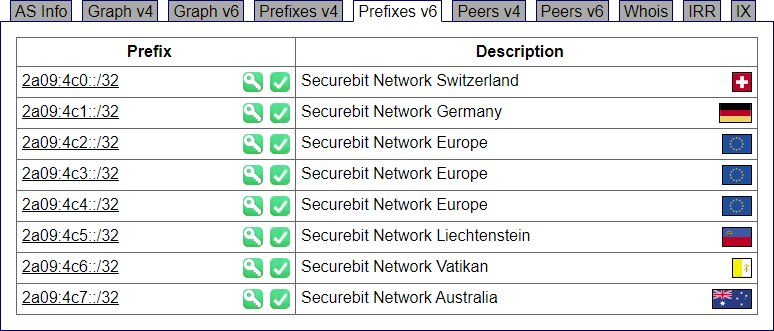 Our customers also like to use Europe for their Anycast DNS and CDN networks. Of course, you can additionally store or adapt the country of your subnetworks in the RIPE database.
Size
Setup
Price
Availability
/44 Subnetz

v6

PA

Free of charge
15.00 CHF

Annually

/43 Subnetz

v6

PA

Free of charge
30.00 CHF

Annually

/42 Subnetz

v6

PA

Free of charge
60.00 CHF

Annually

/41 Subnetz

v6

PA

Free of charge
90.00 CHF

Annually

/40 Subnetz

v6

PA

Free of charge
120.00 CHF

Annually

/39 Subnetz

v6

PA

Free of charge
180.00 CHF

Annually

/38 Subnetz

v6

PA

Free of charge
20.00 CHF

Monthly

/37 Subnetz

v6

PA

Free of charge
40.00 CHF

Monthly

/36 Subnetz

v6

PA

Free of charge
60.00 CHF

Monthly

/35 Subnetz

v6

PA

Free of charge
80.00 CHF

Monthly

/34 Subnetz

v6

PA

Free of charge
100.00 CHF

Monthly

/33 Subnetz

v6

PA

Free of charge
125.00 CHF

Monthly

/32 Subnetz

v6

PA

Free of charge
150.00 CHF

Monthly