Situation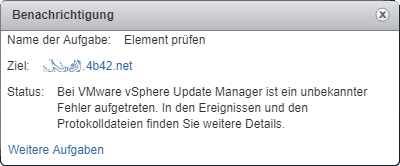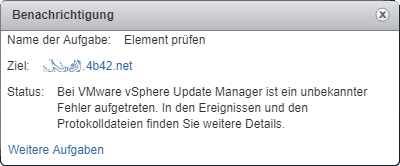 VMware Update Manager
Wir wollten heute unsere VMware vSphere Hypervisor Nodes mit dem VMware vSphere Update Manager überprüfen um ausstehende Updates zu installieren.
Leider konnte die VMware vCenter Server Appliance die ESX Nodes nicht überprüfen und hat die Aktion mit folgender Meldung abgebrochen:
Bei VMware vSphere Update Manager ist ein unbekannter Fehler aufgetreten. In den Ereignissen und den Protokolldateien finden Sie weitere Details.
To view this entry in full, you must be a customer of Securebit AG. You can order any product from our range.
If you are already a customer, you can log in
here
.