Voraussetzungen
- Active Directory
- Microsoft Windows Server 2016 oder 2012 R2
Vorbereitung
Ich verwende in dieser Anleitung einen Microsoft Windows Server 2012 R2, dieser ist auf dem aktuellen Update-Stand (Windows Updates) und bereits Mitglied der Domäne 4b42.com.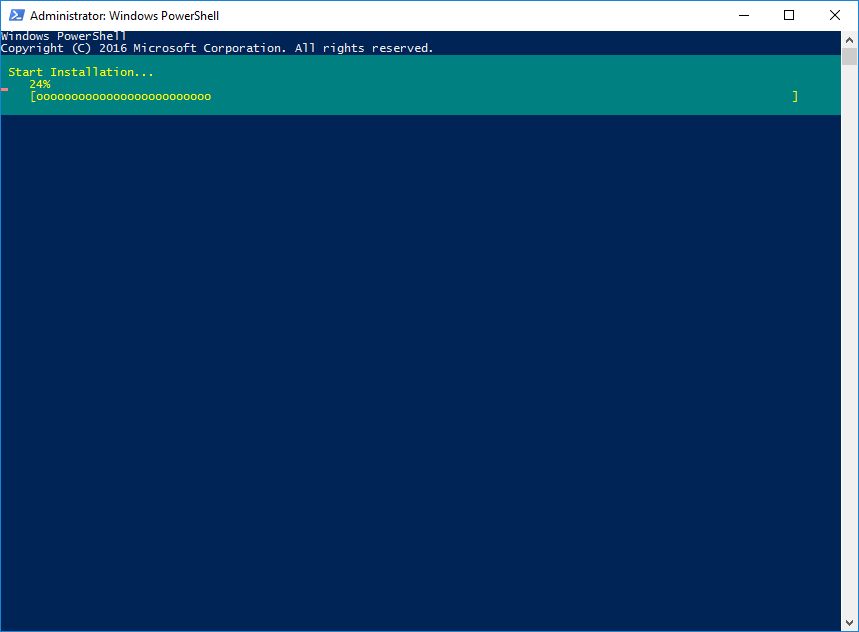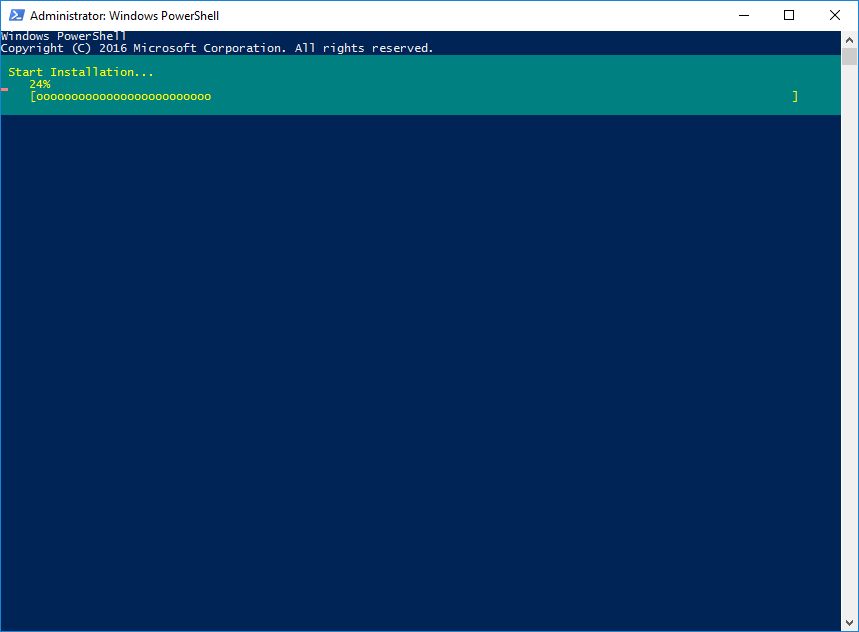 Windows PowerShell
Öffnen Sie nun die Windows PowerShell und führen Sie folgenden Befehl aus:
Add-WindowsFeature NET-Framework-Core, RSAT-ADDS, Windows-Identity-Foundation, Web-Server, Web-Static-Content, Web-Default-Doc, Web-Http-Errors, Web-Dir-Browsing, Web-Asp-Net, Web-Net-Ext, Web-ISAPI-Ext, Web-ISAPI-Filter, Web-Http-Logging, Web-Log-Libraries, Web-Request-Monitor, Web-Http-Tracing, Web-Basic-Auth, Web-Windows-Auth, Web-Client-Auth, Web-Filtering, Web-Stat-Compression, Web-Dyn-Compression, NET-WCF-HTTP-Activation45, Web-Asp-Net45, Web-Mgmt-Tools, Web-Scripting-Tools, Web-Mgmt-Compat, Server-Media-Foundation, BITS
 Installation starten...
    68%
    [ooooooooooooooooooooooooooooooooooooooooooooooooooooooooooooooooooooooooo                                   ]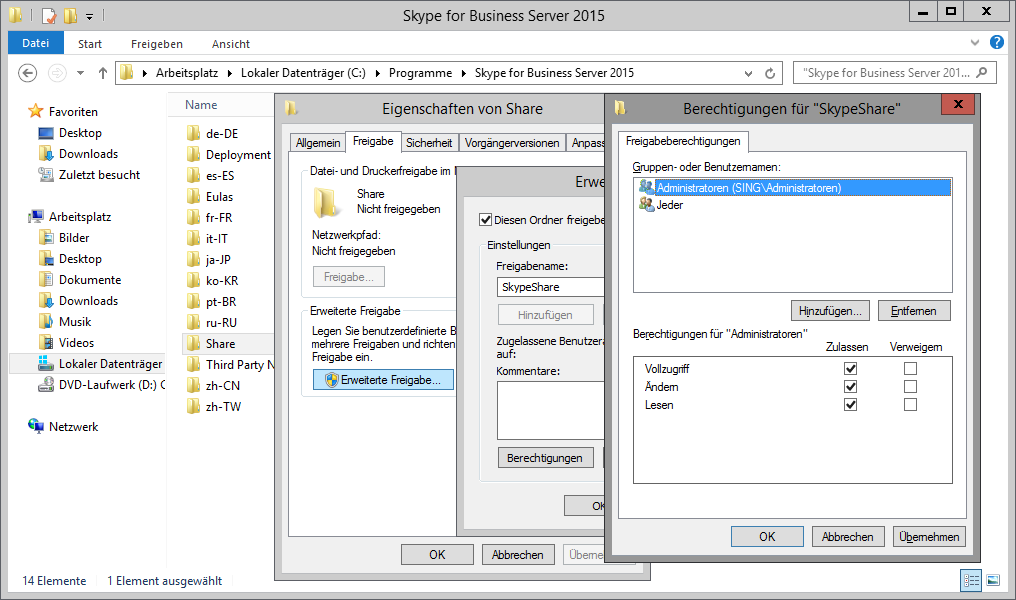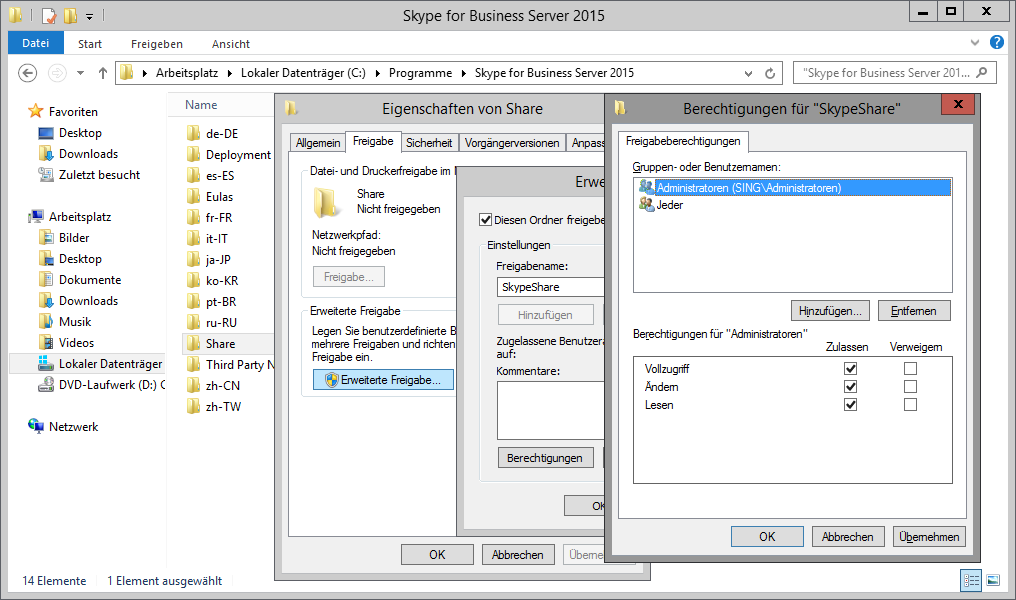 Skype Freigabe
Erstellen Sie an einem beliebigen Ort einen Ordner, ich verwende hier
C:\\Program Files\\Skype for Business Server 2015\\Share
. Rechts klicken Sie auf diesen Ordner, wählen Sie
Eigenschaften
und wechseln Sie in die Registerkarte
Freigabe
. Klicken Sie auf
Erweiterte Freigabe...
, setzen Sie den Haken bei
Diesen Ordner freigeben
, geben Sie bei Freigabename
SkypeShare
ein und klicken Sie auf die Schaltfläche
Berechtigungen
. Klicken Sie in dem Fenster
Berechtigungen für SkypeShare
auf
Hinzufügen
und darauf auf
Erweitert
. Suchen Sie nun nach der Gruppe
Administratoren
und wählen Sie diese aus. Bestätigen Sie Ihre Auswahl mit
OK
und setzen Sie einen Haken bei
Vollzugriff Zulassen
, prüfen Sie ob für die Administratoren-Gruppe alle Berechtigungen im Bereich Zulassen aktiviert sind. Klicken Sie nun auf
OK
,
OK
und zum Schluss auf
Schliessen
.
Laden und installieren Sie
This link has been removed. Links are only visible for members. Please login with your username and password and try again.
To view this entry in full, you must be a customer of Securebit AG. You can order any product from our range.
If you are already a customer, you can log in
here
.