Situation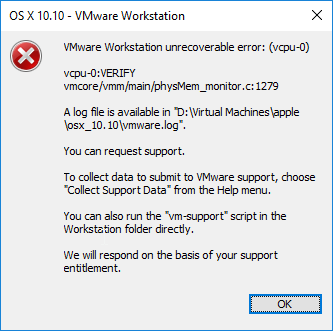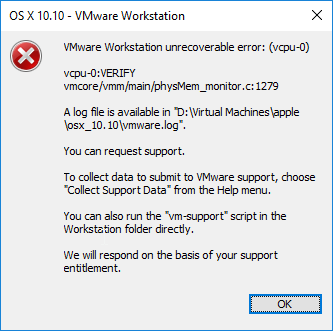 unrecoverable error
Ich habe heute beim Starten von meiner macOS VM folgende Meldung in VMware Workstation erhalten:
VMware Player unrecoverable error: (vcpu-0)

vcpu-0:VERIFY vmcore/vmm/main/physMem_monitor.c:1123

A log file is available in \"C:\\Users\\Bhanu\\Documents\\Virtual Machines\\anything\\vmware.log\".  

You can request support.  

To collect data to submit to VMware technical support, run \"vm-support\".

We will respond on the basis of your support entitlement.
To view this entry in full, you must be a customer of Securebit AG. You can order any product from our range.
If you are already a customer, you can log in
here
.