Situation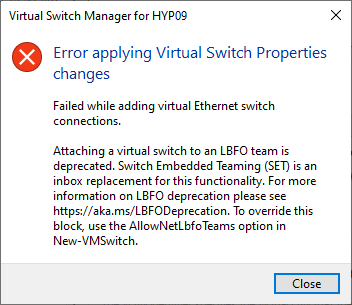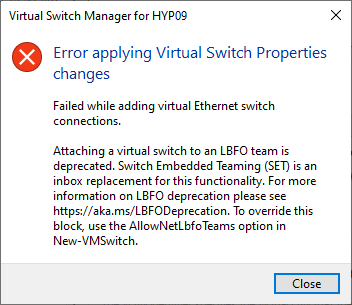 HyperV Switch
Früher wurde für die bündelung von Netzwerkkarten ein Team im Microsoft Windows Server Manager erstellt. Dieses Team konnte dann in Hyper-V verwendet werden.
Ich wollte heute Hyper-V auf einem neuen Server einrichten und habe die Meldung erhalten:
Failed while adding virtual Ethernet switch connections.

Attaching a virtual switch to an LBFO team is deprecated. Switch Embedded Teaming (SET) is an inbox replacement for this functionality.
To view this entry in full, you must be a customer of Securebit AG. You can order any product from our range.
If you are already a customer, you can log in
here
.